After Vegas – Glasgow

September 2017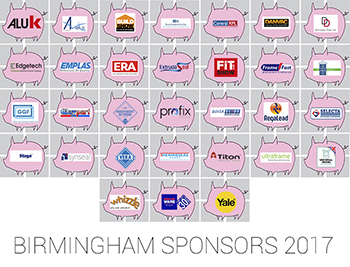 The first PIGS north of the border proved to be a PIG success with our industry colleagues in Scotland, according to organiser Sarah Ball who put the event together after a suggestion from from Colin Torley that a PIGS event could prove popular in Glasgow.

"Last year, we took PIGS to Vegas as part of Glass Build America," she explained. "It was really successful, so when Colin suggested Glasgow, we thought, why not?"

Held at Bacchus Café Bar in Glasgow, almost 40 PIGS attended the first ever Scottish event and enjoyed the usual PIGS party of a free bar and some great networking.

"It was a great turnout," says Sarah. "We've already had some fantastic feedback from people who attended and its success means that we will be running it again next year."

A big thanks goes out to our special Glasgow sponsors: AluWood Windows, CR Smith, Save Heat Glazing Systems Group and Sealco. As well as all of our annual PIGS sponsors:

• AluK
• Avantis International
• Build Show
• Business Micros
• Central RPL
• Danvac
• Dempsey Dyer
• Edgetech UK
• Emplas
• ERA
• ExtrudaSeal
• FIT SHOW
• Frame Fast UK
• Georgian Bar Company
• GGF
• Glazpart
• Independent Network
• Profix
• Quickslide
• Regalead
• Selecta Systems
• Stuga Machinery
• Synseal
• The VEKA UK Group
• Thermoseal
• Titon
• Ultraframe
• Universal Arches
• Whizzle
• Windowware
• Yale

Next stop, Birmingham, back to the Pitcher & Piano, Thursday 19 October 2017, 5pm.