Frost and Rothwell back Listers rescue

September 2017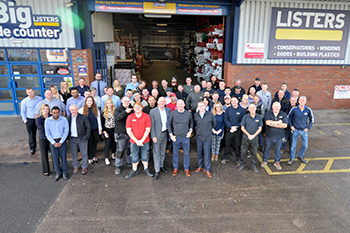 Lister Trade frames has been acquired from administration by Roy Frost's GJB Holdings with further backing from industry entrepreneur Alan Rothwell.

The £12million-sales Stoke-based fabricator began its new ownership with the assurance that it is continuing with the Veka Halo system as well as Residence Collection, Solidor, and ALUK.

Listers had been placed into administration on Aug 29 read story. It had spent heavily on new machinery and facilities in the past months and, according to administrators, did not see returns on that investment as quickly as it had expected. Last week, Mark Warren, MD of the 40-year-old business announced he was stepping down, handing the reins to fellow directors Darren Pusey and Mark's brother Phil Warren, both of whom will now continue in the management team.

Alan Rothwell, who has put significant backing into the acquisition, is known in the industry as a major investor in north west fabricator Dekko but it is understood there is no other connection between the two businesses.

Roy Frost, the former Deceuninck MD who bought GJB, the Essex-based Eurocell fabricator in July (read story) said of the Listers acquisition: "We will keep it simple and get back to basics, focusing on our core products and remove any distractions. We will be concentrating on delivering excellent levels of customer service to our 900+ customers, giving them the competitive edge they need. I'm really looking forward to working with Phil and Darren to bring some fresh new ideas and new energy into the business. This acquisition fits perfectly with our long-term strategy for GJB Holdings. Onwards & Upwards!"

The business will continue under the name Listers alongside Listers Central as its trade counter operation.

Picture: Phil, Roy and Darren with the Listers team.