Aluprof Supports Modularisation Construction Technology

November 2018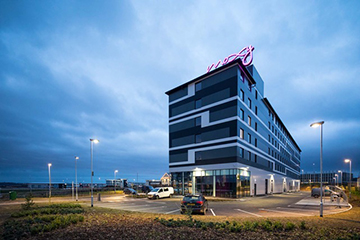 Not a new technology, but a design approach which continues to grow in popularity. Recent projects competed with Aluprof systems show what it possible and the benefits that this approach can bring.

The construction industry has used modules, such as bathroom 'pods', for many years where a repetitive build, such as a hotel has many of the same elements. There is a big benefit of producing these off-site in a controlled
environment where specialist equipment is available and good levels of quality control. Simply delivered to site, lifted into place and services already provided and in place to simply link-up.

Modularisation has now gone further to complete walls for rooms which can be produced with openings with fitted windows creating a waterproof and structural unit. Some of these larger room 'pods' can be produced as complete rooms with finishes and furniture complete. Protected adequately against the elements, each unit is transported to site and simply lifted into place usually on a prepared structural grid.

The concept of the 'pod' hotel has been constructed in the USA, the rooms are generally smaller than average, so more rooms can be accommodated for any given city space, but quality of the rooms is higher with finishes lasting longer, in turn this makes these rooms more cost effective for the guest. In the USA they have even produced small apartments on this basis which are known as 'pod pads'. The concept could be adopted in the UK to ease our housing shortage, particularly in the city.

The idea of modularisation and hotel construction are a very good match and many of the new hotels constructed today use this technology. The concept works for both budget hotel construction and city centre luxury hotel developments. The modular method of construction allows developers to realise hotels of up to 20 storeys to be quickly erected.

The key for the window system is to allow the window to be fitted within the 'pod' and finishes to be made good internally, but then having an ability for the external facade to be finished up to the window system and made serviceable
and weathertight. Aluprof have worked with several companies to achieve bespoke solutions and provided trained installers at the point of installation.

The ability for construction to be completed on site quickly and to quite accurate precision with minimal snagging issues means that this method of construction is very economical, especially for repetitive structure layouts such as hotels. It is claimed that a 100 bed hotel could be erected on site in just
two weeks using the modular pod construction.

One recent example of this type of construction is the recently opened Moxy Hotel at Aberdeen airport which was constructed by Robertsons. Using modular CLT (Cross Laminated Timber) construction, manufactured in Italy, the upper floors were assembled and bolted on top of a steel framed ground floor
structure. The completed pods were then linked to a modular network of services within the new structure.

In the south, the Citizen M hotel at Shoreditch, London was also constructed using a similar principle of construction.
Benefits realised by the client included; a quicker construction than compared with a traditional build method, this allowed the client to generate revenue earlier; an enhanced quality of final construction due to the strict testing and auditing regime of the factory and increased safety, as fewer man hours are
required on site.

Aluprof can offer guidance on all forms of construction which require windows or curtain wall systems, either installed into off-site element or on site installations. With early engagement in the design process, often savings can be made in both installation requirements and bespoke profiles.

Aluprof UK's head office and extensive distribution centre is located in Altrincham, Cheshire. Aluprof systems are increasingly being specified on a wide range of residential and commercial projects across the UK including Passivhaus projects. Systems are designed, fabricated and installed by selected, specially trained local companies, to ensure each fabricated product meets Aluprof's exacting standards. Further information is available on the company's website at www.aluprof.eu and specialist advice is available directly from Aluprof's UK offices on 0161 941 4005.