The Glass And Glazing Industry Celebrates The G12 Award Winners In Style

November 2012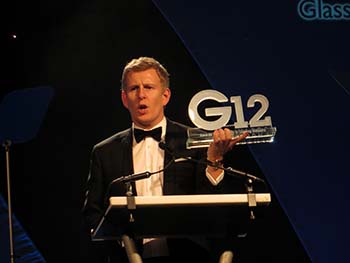 In typical enthusiastic fashion, the glass and glazing industry gave its support to the Winners of this year's G-Awards at the Hilton Hotel Park Lane, London, in November. This G12 Awards Presentation & Gala Dinner, hosted by Patrick Kielty, was one of the best attended with a figure of 596 guests hosted at one of the country's most exclusive venues. All were there to celebrate the outstanding excellence displayed by this year's winners who are:


Promotional Campaign of the Year for Retail: Ultraframe (UK)

Public Sector Project of the Year: Pilkington UK

Health & Safety Initiative of the Year: Trent Valley Architectural Glazing

Apprentice of the Year: Mitchell Gooch, Pioneer Trading Company

Component Supplier of the Year: Edgetech

Promotional Campaign of the Year for Trade: Rehau

Customer Care Initiative of the Year: EvergladeWindows

Energy Efficiency Initiative of the Year: VEKA UK

Conservatory Installer of the Year: P&P Glass

Installer of the Year: T&K Home Improvements

Fabricator of the Year: Lister Trade Frames

Glass Company of the Year: Glassolutions Saint-Gobain

Tony Higgin, organiser of the G-Awards, says, "I would like to offer my congratulations to all the winners this year. All our Finalists put an extraordinary amount of effort into their entries and judging does not get any easier. In particular Lister Trade Frames deserve a special mention for being awarded the Derek Bonnard Award for Excellence as this is given to the winner judged to have that extra special quality."

The G12 Awards also raised money for GM Fundraising with founder Gary Morton confirming that £2,350 was raised by guests in what he called 'an incredible show of support by the industry'.