Moves at Milwood

May 2019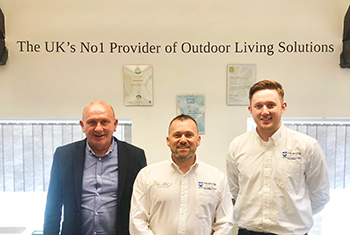 G18 Award finalist MILWOOD GROUP has announced the promotion of operations manager Kevin Horne to managing director while founder Mark Wood steps down as MD to focus his attention on Ali-deck, the group's new aluminium decking system. Projects manager Daniel Royston now takes over as operations manager.

Mark Wood said of the changes: "These changes which ensure we have the right people in the right roles during this pivotal time for the business. With the launch of Ali-deck and such sustained demand for our shelter solutions, the timing was right to make the best use of both Kevin and Daniel's strong skillsets.

"This structure change not only safeguards the future of the Milwood Group but ensures that trade partners continue to receive the first-class service that has helped Milwood become one of the UK's leading outdoor living specialists."

Kevin said: "Having worked with Mark over the last six years and watched him grow the company from strength to strength, I'm well aware I have big shoes to fill. However, I'm excited by the opportunity to continue his great work and to continue delivering unrivalled quality, innovation and customer service."

Daniel added: "After a fantastic first year with the team, I am absolutely thrilled to be taking on this new role. It's been great to work with both Kevin and Mark and really take advantage of their experience and expertise. I'm looking forward to more of the same working alongside Kevin in this new operational capacity. There's a lot to get to grips with but I'm really excited by the opportunity."

www.milwoodgroup.com

Picture, l to r: Kevin Mark Wood and Daniel Royston.