CABís 25th Year celebrations highlight important projects and member resilience

June 2019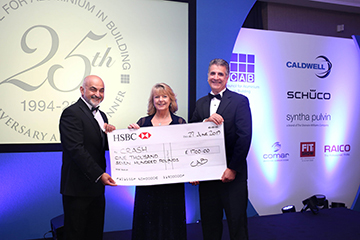 CAB President, Mo Panam (left) together with CAB ceo, Justin Ratcliffe presenting a cheque for £1,700 to CRASH ceo Francesca Roberts at the CAB AGM Dinner on 27 June 2019 at Carden Park, Chester
CAB celebrated its 25th Anniversary at Carden Park in some style at the end of June.

After a highly competitive golf day with nearly 100 players, the evening AGM Dinner supported by over 200 members and their guests was entertained by comedians John Maloney, Josh Howie and impressionist Kevin Connelly with music provided by London rock/pop band 'The Capricorns'.

CAB President, Mo Panam reflected that we were living through a period of both economic and political uncertainty. He noted that in London this year, 76 tall buildings would be completed, a threefold increase on 2018 and that further north in Manchester, a 2019 Deloitte Crane Survey had revealed that the City was outpacing that of Los Angeles. Leeds, Birmingham and Belfast were also enjoying a rise in property development. Following this trend, it was announced that CAB's next large Regional Members' meeting would be held at the Imperial War Museum in Manchester in October.

The President said it was crucial for the Association to keep listening to the changing needs of its supportive membership base and strive to be ever more proactive. He was pleased to announce in the first 6 months of 2019, a new residential website residential-aluminium.org.uk, a pilot Closed Loop Recycling Scheme to encourage members to highlight their sustainability credentials and important progress in a series of training programmes (supported by GQA Qualifications) to improve competency amongst fabricators and installers.

The importance of these Training programmes could not be underestimated when the size of the Skills Gap was considered. CAB was also pleased to be working with GQA to support the 'Building our Skills' initiative which aimed to encourage young people to consider both the opportunities and the excellent training that existed to make a successful career in the fenestration sector.

In welcoming new CAB schemes and services, the President said that it is was good to see the huge popularity of existing programmes, such as the CAB Contractual Awareness Seminars. It was one of CAB's key philosophies to 'promote and defend' its membership.

During the first 6 months of this year there had been a good take up of new membership with 11 companies approved:

• Acorn Aluminium
• AOV (UK)
• Epwin Window Systems
• Fentrade
• GlassHus
• LP Window Controls
• MBE Glazing Systems
• Presstek
• Soft Tech (England)
• United Anodisers
• Window Ware

The President was delighted to report continued high levels of participation in the Technical Committees and Working Groups. In summing up he thanked the tremendous support from members, 'Since I have joined the Board and have had the honour of being your President, I've recognised an important quality that our family – our membership – possesses and that is resilience. I am sure, in these uncertain times, that this resilience will not only help us through this period but will make us stronger. In turn, this will have a positive effect, not only on our industry, but to our economy as a whole'.