Award for best youth employment

June 2019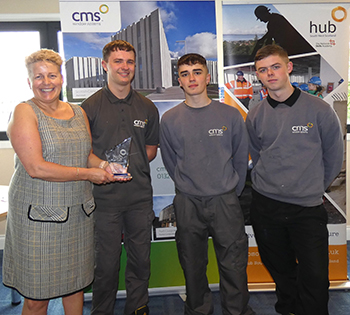 CMS WINDOW SYSTEMS has gained the award for Best Employment Initiative for Young People in the Skills and Training Academy Awards run by Scottish public-private development partnership hub South West.

CMS won on the criteria of youth employment, the introduction of construction as a viable career path, structured framework apprenticeships, graduate programmes and initiatives targeted at women, as well as disadvantaged and disabled people.

The award comes as CMS completes its latest educational outreach activities for local students at different stages of their formal schooling, designed to introduce them to the career opportunities available in the fenestration industry.

CEO David Ritchie said: "To be recognised for our dedication to providing employment and career opportunities for young people is an honour and a credit to all those involved.

"Our recently launched CMS Academy has been a particularly exciting development, enabling us to offer a comprehensive and structured training programme to even more apprentices in future."

Michael McBrearty, chief executive of hub South West, said: "The skills shortages we have within our sector are all too well-known and these awards mark an important new phase in our partnership's commitment to raising the bar within the industry. In addition to supporting our commitment to engaging local communities, the small and larger firms involved with hub South West also strive to play their part in tackling wider skills issues across the industry. It is only fitting that we should applaud their efforts."

www.cmswindows.com

Pictured, left to right: Margaret Milton (Hub South West), Dean Leishman (CMS apprentice), Jay Coyle (CMS apprentice), Kieran McNulty (CMS apprentice).