Excellence recognised

July 2019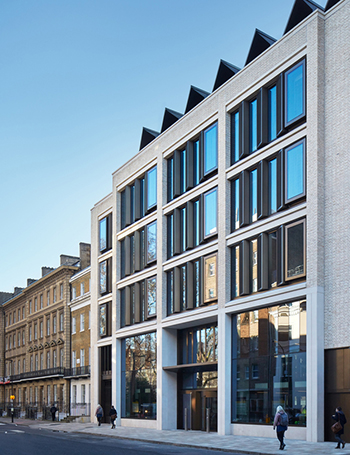 The UCL Student Centre, London has taken top prize out of a record 160 entries in the sixth annual Schueco Excellence Awards.

Schueco aluminium systems used on the building comprised FWS 60 curtain walling, AWS 75.HI windows, ADS 75.HI doors and AWS 114 concealed vent windows. The building is designed to achieve exemplary sustainability targets including a BREEAM Outstanding rating.

The judges followed the precedent established in 2018 and decided to give an Overall Commendation Award; this was won by The Ray, Clerkenwell, London, a new building by AHMM that provides flexible spaces for office, retail and hospitality uses. This project was also voted the winner in the Commercial Building Category.

Three Schueco aluminium systems were used in its construction: FWS 60.HI curtain walling, AWS 75.SI+ side-hung ventilators and ADS 75.SI+ HD single- and double-doors.

The winners in the other Award categories were: Windermere Jetty Museum, Cumbria (Cultural Building); Television Centre, London (Refurbishment Project); Rosemoor Studios, London (Residential Development); Kenwood Lee House, London (Individual House); Felsham Road, London (Individual House Improvement); Sevenoaks School Science & Technology Centre, Kent (Steel Project); London Waterloo Station Infill (Specialist Contractor).

The UCL Student Centre by Nicholas Hare Architects was also the winner in the Education category.

There were seven further commendations: Two St. Peter's Square, Manchester (Commercial Building category); MK Gallery, Milton Keynes (Cultural Building category); The Dorothy Garrod Building, Cambridge (Education Building category); 160 Old Street, London (Refurbishment Project category); 35 Marylebone High Street, London (Residential Development and Steel Project categories); Tachbrook Street, London (Individual House Improvement category).

The panel of judges for the 2019 Awards comprised: Chair, Paul Williams (Stanton Williams); Julia Barfield (Marks Barfield); Neil Dusheiko (Neil Dusheiko Architects); Steve Mudie (alinea Consulting); Paul Savidge (Wintech); and Clare Wright (Wright & Wright).

The awards are organised by Schueco UK in partnership with Architecture Today.