High rise need not mean high risk

February 2019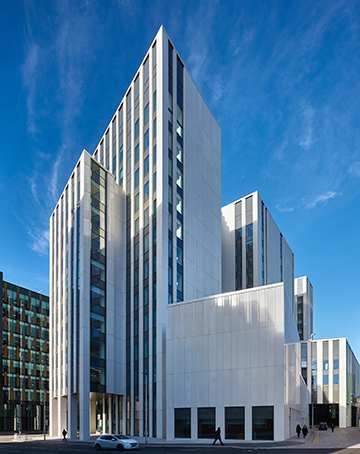 Danny Birrel, MSc MCIBSE, technical director of leading UK manufacturer Kawneer, advises how to design curtain wall facades to accommodate building movement.

Land-pressed developers are increasingly turning to high-rise buildings to deliver best footprint value but the interaction between the façade of a building, particularly a tall one, and its structure is, sadly, frequently ignored in the design phase.

Analysis of the architectural intent, structural movements and specified glazing system are required during the early stages of a project design so that glazing and cladding systems can be designed to allow for building movement without compromising the performance or safety of the system.

Failure to provide sufficient allowance for in-service building movement in the connections between façade and structure may result in one or more issues - leaks, cracks, failure of connections, buckling of mullions and breakage of glass.

Due to the extension of structural spans seen in contemporary building designs, slab deflection is increasingly placing additional demands on the façade design team to accommodate this differential movement between slab and façade.

The solution to this is simple - early engagement with system specialists. While analysis of the structural movements, architectural intent and specified glazing system is usually carried out by the system supplier or specialist façade contractor, it is imperative that main contractors and building designers also engage with the system specialists during the early planning stages of a project to ensure the proposed façade system can accommodate the associated building movements and is in line with the proposed site installation methodology.

If the specified glazing system is not aligned with the building structure and installation plan at the early stages of a project, it can cause unforeseen delays and costs when it is aligned at a later stage.

Accommodating building movement and the resulting interaction between the facade and structure is complex and there are many factors influencing façade and building movement that specifiers should consider. These include temperature, moisture, floor loading, wind loading, snow loading, live loads, dead loads, settlement, creep and seismic sway.

Selecting the most appropriate glazing system at the early stages in a project is vital as it can have a major impact on the intended appearance, and more importantly, lifetime performance of the facade. For example, wider framing members can accommodate more building movement, and in some instances double transom details are required at floor slabs for the accommodation of differential building movement.

One of the main complexities is designing the façade to accommodate differential slab deflection. These movements caused by post-installation dead and live loads are commonly found in the structural engineer's report which are typically defined by a span ratio.

Due to a desire to extend structural spans in modern structures, slab deflection figures based on the span ratio are increasing significantly, making façade design and movement accommodation even more challenging.

Arguably, floor slabs in real life do not deflect anywhere near to figures being documented but it is essential to design facades as if they do, including an allowance for manufacturing tolerances and thermal movement.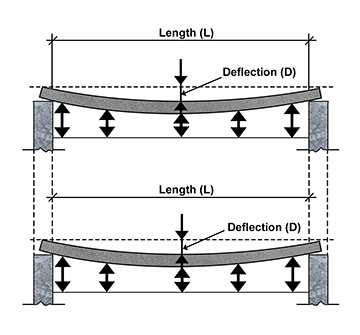 Determining the limitations of a particular system or offered solution must be understood before complete alignment can take place. Failure to provide sufficient allowance within the system, or to design and/or specify a system with serious limitations, and failure to correctly design/detail the critical connections between the façade and structure may result in the issues mentioned earlier (leaks, cracks, failure of connections, buckling of mullions and breakage of glass).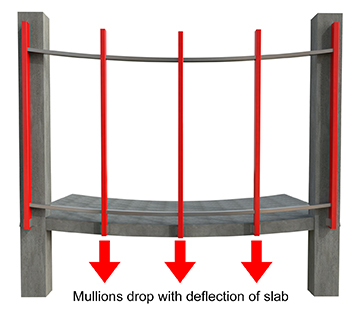 Evaluating the various curtain walling options should be a first-case scenario as although conventional stick curtain wall is widely specified in the UK and can offer a cost-effective façade solution, compared to unitised curtain wall it is very limited in terms of accommodating differential slab deflections.

Kawneer has recognised this and recently developed a unique movement/expansion joint for the AA®110 'stick' curtain wall system that can accommodate up to +/- 15mm of differential slab movement, so mimicking the ability of unitised solutions to accommodate movement while offering the cost-effectiveness of a 'stick' solution.

This expansion joint solution comprises a specialised engineered foam which expands and contracts in the mullion with the movement of the structure. A unique transom profile is used at each floor level which allows the spandrel glass/panel to slide within the glazing rebate while maintaining airtightness, ventilation and weather tightness of the system.

A bespoke breather membrane is used on the bespoke floor transom which is designed to allow any excess water in the glazing rebate to escape. It is also designed to expand and contract with the racking movements of the glass when subjected to the 15mm slab deflection.

One of the key aspects of the development was the performance test methodology to ensure the system would perform when subjected to this level of movement. The system supplier worked closely with the Centre for Window and Cladding Technology (CWCT) to develop the test method which was an enhanced version of the sequence B. This included a structural movement regime comprising three cycles of +/- 15mm deflection of the structural beams supporting the test specimen.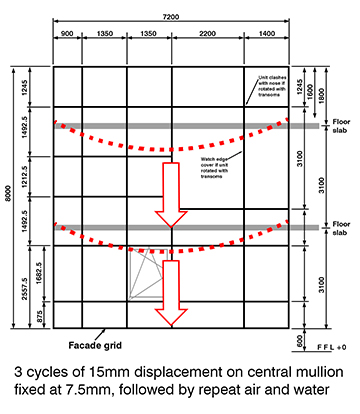 To complement this systemised solution that can be readily tailored to the requirements of each project, the system supplier is also launching a no-obligation façade workshop comprising a team of façade specialists who will work collaboratively with developers, architects and engineers during the early stages of a project.

The aim is to provide a unique design and consultancy service working across every aspect of the façade to ensure the design intent and every detail is realised, to help refine the design, ensure the scheme is 'value engineered' and can be built on site safely.

The thinking behind this is that early involvement always leads to a successful outcome for the project, whether it relates to building movement or façade selection and key design issues in general. The holistic approach is set up to classify facades by function, materials, mullion type, glass type, key components, structural safety, thermal performance and future maintenance.

These consultants understand that architectural trends and features are a key part of a building's identity and are committed to turning these features and daring concepts into safe reality to meet the desired aesthetics of the building.