Go girls – the GM fundraising
females are back

December 2019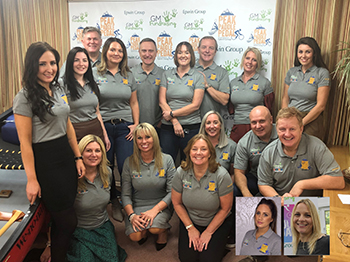 The GM Fundraising women are back in the saddle, promising to top their 2017 Paddle2Pedal triumph with their 2020 challenge, Peak, Paddle, Pedal.

The 12-strong all-female crew are committed to raise at least £3,000 each for Hope House Children's Hospices with the aim of topping their £100,000 2017 total with their latest hike, bike and canoe marathon.

This time, they will climb Snowdon, canoe 150 miles down the River Severn then cycle another 150miles back to Hope House – all over eight days in August.

Gary Morton, founder of GM Fundraising, said: "Our first women-only event in 2017, Paddle2Pedal, was an incredible success and we can't wait to do it again with this significantly increased challenge. We're also very grateful to the Epwin Group, which has agreed to be our headline sponsor once again.

"The 12 members of the Paddle2Pedal team raised over £100,000 between them in 2017. It's the 25th anniversary of GM Fundraising in 2020 and it would be fantastic to see the Peak, Paddle, Pedal team raise even more."

Making up the doughty dozen are: Clare O'Hara and Katrina Earl of Epwin Window Systems, Charlotte Mercer of Edgetech, Samantha Nuckey of Window Ware, Deborah Hendry of Kolorseal, Helen Downer of Era Home Security, Nikki Dunbar of Balls2Marketing, Sioned Roberts of AluK, Sarah Hitchings of Window Widgets, Diane Rothwell of P&R, Hayley Lowndes of Swish Building Products and Amy Hunter of Sheffield Window Centre.

Supporting the team on their journey are GM Fundraising veterans, Gary Morton, Alan Sadler, Graeme Bailey and Dave Broxton as well as canoe expert Mark Bache from Epwin Group.

Since it was established in 1995, GM Fundraising has raised almost £2 million for Hope House Children's Hospices, which provides palliative care for children with terminal conditions and support for their families, both on site and in their homes. Over 95% of Hope House's £5 million annual operating costs are met through charitable donations and GM Fundraising is its largest single donor.

Follow #GMFPPP and #forthekids across social media.