'Aluprof Unitised Systems Transforms Existing Belfast Building'

April 2019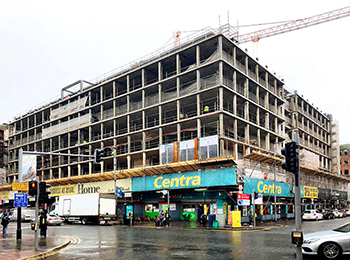 Unitised curtain wall is normally associated with new high rise building, but in Belfast, Aluprof systems are being used to help transform an existing office block with a completely new building envelope.

The new £18.5 million redevelopment of the Merchant Square building will add two further floors to the existing 1975-built seven storey office block and will consist of a new Corten steel and aluminium facade.

The external envelope was originally specified in traditional stick construction curtain wall, but Clarke Facades worked with Aluprof to put forward a unitised option. Crucial to this specification change with Like Architects of Belfast and their client, the Oakland Group, is that the proposal had to fall within the original facade budget.

Aluprof's MB-SE75 Capped Unitised Curtain Wall system was specified in an anodised finish, which then contrasts in accordance with the architects design, with the external Corten steel used in a vertical column emphasis.

Installed by Clarke Facades of Ballymena, Co. Antrim, the project is due for completion in Autumn this year with a new anchor client, PwC, relocating approximately 2,000 staff to Merchant Square during summer 2020.